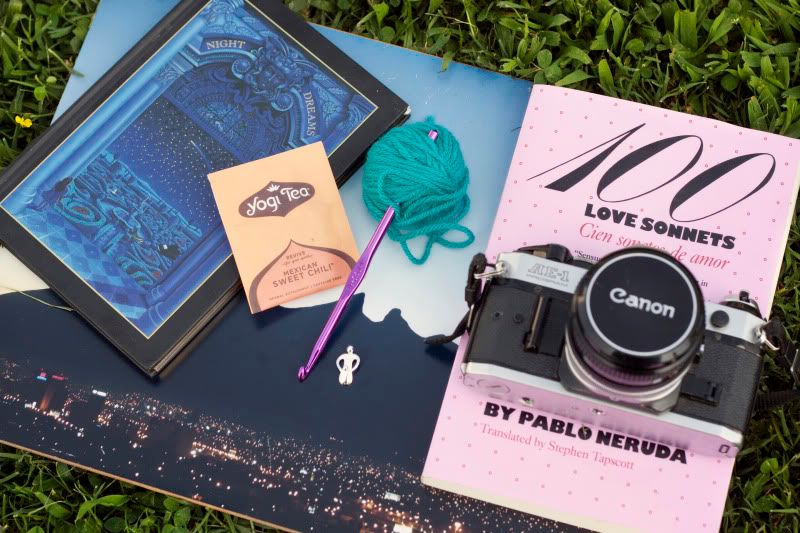 I have been following Divas and Dreams' blog for a while, and when I saw this workshop today I got so excited to participate! I'm a little behind but hopefully I'll get caught up soon. All the assignments are aimed to help you find YOU! As Christina so eloquently puts it "
When you step out of your comfort zone, that is when you develop yourself as a creative person. The more you know yourself and the more you use your personality in every project the more creative and amazing it will be"
1.
Cien Sonetos de Amor
-- I'm in love! I love my husband, my son, our lives! When John and I were dating he gave me a poem by Pablo Neruda, it was so sweet and nice and romantic. For a long time we would write poems to each other, we don't do that so much anymore but that was the foundation of our marriage and now our son..our love for each other.
2.
Night Dreams
-- I'm a dreamer. I've always been and I always will. My parents were dreamers. They dreamed big and moved us here from Mexico. I love to get caught up in day dreams. I dream for a better future for all of us! I also have the craziest dreams and I can almost remember every single one of them! I would go crazy if I couldn't remember my dreams in the morning. I got this book so I could write them down as soon as I woke up. Life changes start with a dream.
3.
El Cerro de la Silla--
The picture of the mountain (El cerro de la silla) is in Monterrey. That's where I was born and sometimes it feels like part of me is still there. Half of my family still lives there and I hope I can visit them soon. After my grandmother died I felt like I couldn't go back there but each day I feel more and more the need to go back. I need closure.